We provide professional live streaming services for weddings, corporate events, parties, musical performances, and more!
Should You Hire a Professional to Live Stream an Event?
With platforms like Twitch and YouTube making it easy to live stream from a mobile device, many people planning an event assume streaming is as simple as setting up a cell phone or iPad. For some events that is absolutely doable and can be a good inexpensive solution, but for others you should hire a professional especially if the event is important. Here are some things to consider:
Audio - We use Shure wireless microphones and wired microphones to ensure remote viewers can hear everything clearly. Good audio is one of the most important parts of a successful live stream.

Camera angles - We provide at least two camera angles with options for more using our 4K capable Sony cameras. We also utilize Blackmagic Design Atem Mini Pro to switch between camera angles and to encode the stream. Having multiple angles gives remote guest the feeling of being there in person.

Redundancy - We always have a primary and backup stream running simultaneously. We utilize Amazon Web Services (AWS) and Elemental MediaLive to have automatic fail-over between the two streams with almost instant reaction to a network failure. We also use a backup cellular connection if the venue's WiFi connection happens to fail during the event.

Multi-Platform Streaming - We have the ability to stream to YouTube, FaceBook, Twitch, or any other RTMP or RTMPS based service. We can also stream to more than one service at once. Some clients wish to stream directly to their website and that is also possible using our workflow.

High Quality Video Archive - After the event is over, we provide you with a recording. This is typically of a higher quality than what was streamed and is often used as an archival copy of the switched show. Meaning the cuts between camera angles and the audio are in this recording. This is also available same day which is especially liked by our wedding customers who enjoy seeing their ceremony rather than waiting for an edited video for months.
Wedding Live Streaming in Connecticut
Below you will find our wedding streaming packages. These are our standard packages however if you do not see what you are looking for, please reach out! We are happy to work with you to make your event perfect!

We service the following counties in CT: Hartford, New Haven, Fairfield, Litchfield, Middlesex, New London, Windham, and Tolland.
Wedding Ceremony Live Streaming Packages

Premier
1 static camera + 1 technician

Elegance
1 static camera + 1 mobile camera +
1 camera operator + 1 technical director

Majestic
3 static cameras + 1 mobile camera +
1 camera operator + 1 technical director

Regal
4 static cameras + 1 mobile camera +
2 camera operators + 1 technical director

All packages include up to a 1 hour ceremony live stream.

(Link to download video files will be provided within 30 days of event)

Please contact us for a quote

Professional Live Streaming for your Corporate Event or Conference
Live streaming corporate events and conferences requires a different set of skills than streaming entertainment. We understand that and are experienced working in fast-paced corporate environments while appropriately communicating with executives and event staff alike.

When it comes to conferences we know the event management team has enough to worry about and we work to remove the technology burden. All of our packages come standard with redundant equipment so that your event doesn't fail if a piece of equipment fails.

Since every conference and event is a bit different, contact us for a custom quote.
Hi, I'm Joe
I'm the founder of Streaming CT and a super tech nerd who loves live streaming technology! By day, I work for one of the big tech companies but on nights and weekends I enjoy helping clients professionally broadcast their live events. We use cutting edge technology and frankly it gives me an excuse to play with tech toys while helping people. You also might see my wife Ashlee with me at events since she is a budding tech professional herself and the best sidekick I could have! Feel free to reach out below even if it is to just "talk shop" or ask streaming questions. :)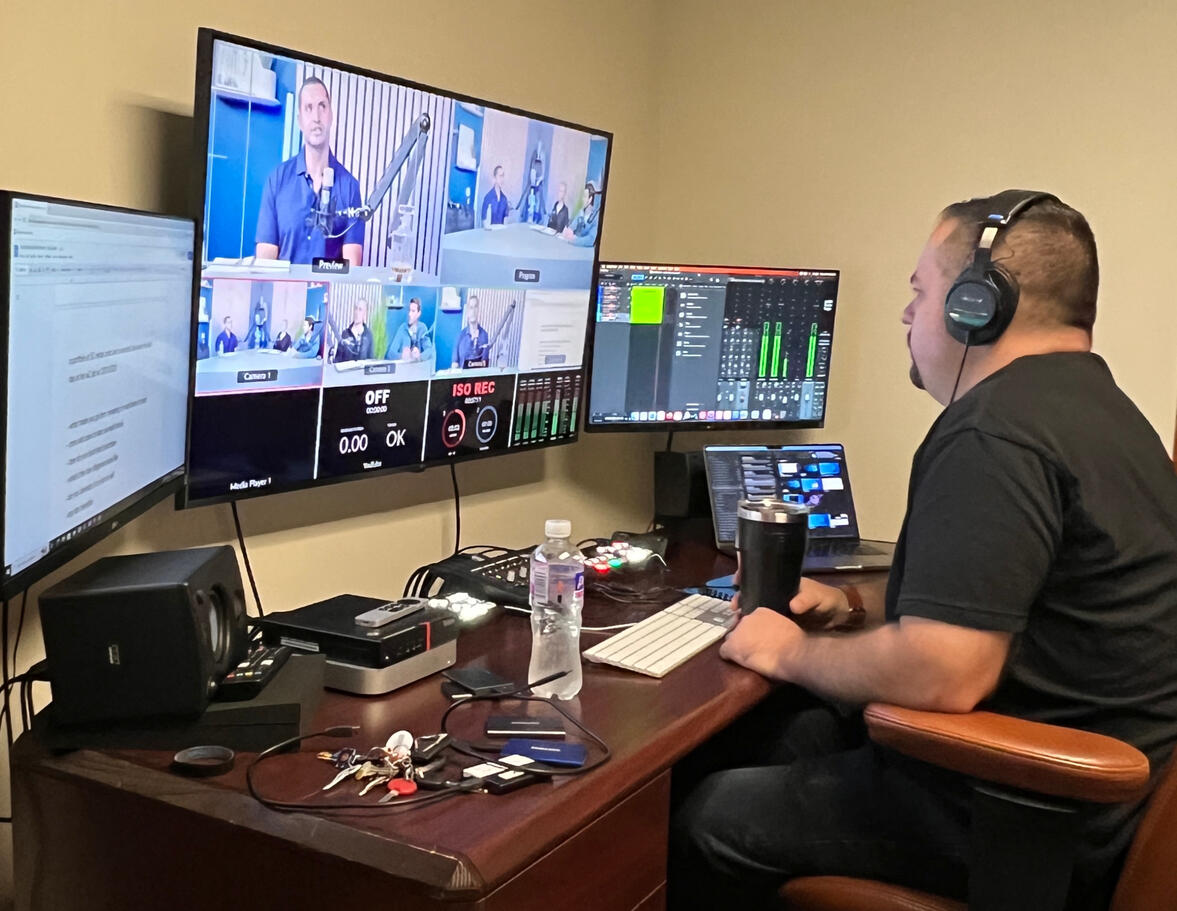 Questions? Drop us a note!
Please fill out the form below to get started. We will email you as soon as we can to talk about your event.
If you prefer to chat by phone, call us at: 860.993.4472
© Cajoling Technologies LLC. All rights reserved.